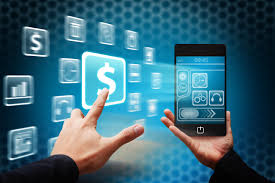 Corporate Insight attended the 2016 Benzinga Fintech Awards Gala on May 24, an event recognizing the most innovative companies operating within the capital markets space. The day included thought-provoking panel discussions ranging from big data to alternative lending and investments, as well as numerous platform demonstrations. Beyond honoring the leading players in fintech, the gala provided valuable insight into the future of the space. While many people only associate the term "fintech" with robo advisors, the truth is that digital advice is just one thread within the larger tapestry of financial technology innovation. Some of the brightest minds in fintech are working on transforming how professional and retail investors experience research, education, data visualizations, lending and investing in ways that go far beyond a portfolio of passive investments.
The various fintech categories spotlighted at the event are too many to recap in a single blog post, but the rapid developments in big data and analytics deserves reviewing. Several firms are making steady progress at turning alternative, crowdsourced data into meaningful analysis that can help investors make more informed decisions. Firms including Estimize, Likefolio and TickerTags are all making inroads in harnessing the predictive power of intelligently crowdsourced data. Likefolio and TickerTags both monitor and scrape data from publicly available sources (e.g., social media sites) in order to analyze public sentiment. Estimize takes a different approach, collecting opinions from over 20,000 professional analysts to calculate crowd consensus equity estimates. The firm recently launched a new, gamified mobile app – Forcerank – that allows users to rank stocks and compete for cash prizes, not unlike daily sports fantasy competitions. The firm in turn uses this data to create meaningful, forward-looking market insights. All three firms provided compelling evidence that these sorts of unconventional, disparate data sets can be powerful tools when used in conjunction with traditional market information like corporate fundamentals.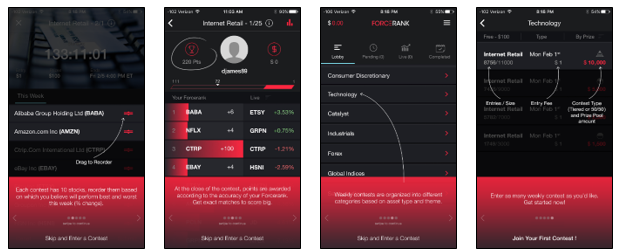 Forcerank Contest Rules
Other firms showcased a different, yet related, value-add: the ability to turn data into actionable visualizations. Firms including Chaikin Analytics and ChartIQ are creating modern, cutting-edge data visualizations that allow clients to immediately glean meaningful information and quickly react to the latest market trends. Recognia, a seasoned financial technology provider, demonstrated its latest product innovation, Options Ideas. The tool generates daily options trading ideas for clients, based on both underlying technical events and a number of customizable data inputs. The tool's interface features several visualizations that make it both easy to understand and implement the suggested options trading strategy. Idea generation may represent the next frontier for active trading platforms. Corporate Insight recently interviewed industry experts in the active trading space, and a common theme was that many options traders are clamoring for tools that can generate specific strategies and trading ideas. Fintech firms that can turn data into action stand to offer tremendous value to both professional and retail investors.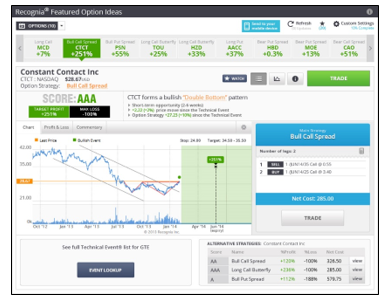 Recognia Options Ideas Tool
Overall, the gala was a day of celebration – spirits were high and spirits were flowing – with a relaxed atmosphere that almost belied the significance of the event's common undercurrent: the mainstream industry's acceptance of fintech. Like many contemporary fintech events, some of the gala's biggest sponsors are industry mainstays (e.g., Apex Clearing, Morningstar, Nasdaq and TD Ameritrade), while many of the fintech firms in attendance are already licensing their technologies to established financial institutions. At the end of the day, fintech firms are not going to completely upend the established financial services industry, but they will continue to augment firms' conventional methods for supporting their employees and clients.