Over the past several months, the influx of robo-advisors has taken the financial advisory community by storm. As this particular market continues to evolve and expand, online financial advice and portfolio management is becoming more accessible to a wider variety of investors—namely, women. On May 11, 2016, Sallie Krawcheck, former Citigroup CFO, launched Ellevest, an online automated investing platform geared specifically toward women. Rather than simply marketing a traditional automated investment platform to women through a commonly used "pink it and shrink it" model as Krawcheck noted, Ellevest's unique, goal-oriented investing approach backed by women-centric data shows tremendous promise in the race to close the investing gender gap.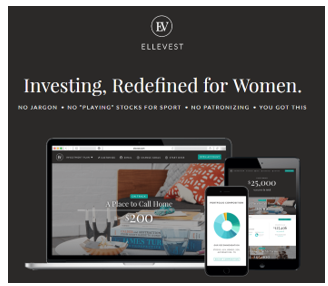 Ellevest Website Banner Image
How it Works:
When users register for Ellevest, they input personal information including their level of education, current salary, timeline and major life goals. Like its competitors, Ellevest creates financial portfolios composed of ETFs from 21 different asset classes that it rebalances based on a user's timeline and risk tolerance, charging a 50-basis-point fee for its services with no minimum investment or balance requirement. On the other hand, while most financial planning models focus on the investment upside and are concerned with 'beating the market', Ellevest's research found that women are more concerned about risk management to avoid the downside.  As a result, instead of asking the investor to define their risk tolerance and then set up an appropriate asset allocation plan, the Ellevest model asks women to define their life goals and then creates an asset-allocation plan to fulfill those goals. Goals can be short term (vacation) or long term (retirement) and users can adjust the projections according to cost or timeframe. Because the platform is designed for users to achieve their goals rather than maximize returns, portfolios become more conservative as investors get closer to reaching their goal. Ellevest also shows its customers how they are progressing toward their goals and contacts them to offer options to rectify the problem if they fall off track of their plan.
Concluding Thoughts
After visiting the topic of robo advisors for women in the fall, we were skeptical about how such platforms would be able to attract female investors. For example, other than its potentially patronizing marketing tactics that promise to help women avoid "awkward conversations and stressful meetings" and offering of resources, articles and guides to "empower women," we were unable to differentiate SheCapital from other, more established automated investment platforms, such as Betterment and Wealthfront. Ellevest, however, is different. Krawcheck clearly articulates the need for women-focused investment platforms because of four key reasons—women earn less than men, their earnings peak earlier, they live longer and they are more risk-aware. Contrary to popular belief, women do not need more financial education than their male counterparts, and they do not need to be held to a lower standard of financial literacy, either, Ellevest says. Overall, we are very excited about the launch of Ellevest and view it as a truly promising, powerful tool to help women achieve their financial goals.