Corporate Insight's Around the Industry blog series reviews public websites and digital resources offered by leading financial services firms that fall outside of our Monitor Services coverage groups. On the heels of a recent site revamp, we examine Calvert Investments, a socially-responsible investment management firm that we first wrote about in May 2013.
Calvert Investments, headquartered in Maryland, was founded in 1976 and has been a frontrunner since 1982 in the area of sustainable and responsible investing. Sustainable investing has been gaining momentum in markets worldwide as more investors seek to align their financial goals and personal values and beliefs. With $13 billion AUM, the firm offers investors a wide variety of mutual funds and separate accounts that focus on corporate responsibility and environmental issues.
Calvert Investments redesigned its public website with stronger navigation, bold images and responsive web design. The firm removed its simple public tools and instead entices prospective clients with brief synopsizes of its private site tool collection.
Highlights:
Enhanced search capabilities – The fund profiles and Perspective tab are now well above industry standards, and include format, topic and audience filters to enhance search usability.
Fully responsive website.
Calvert Social Index – A comprehensive benchmark for measuring top U.S. firm's sustainable and social performance.
Promotes gender equality – Through a designated Women and Investing Perspective section and a detailed ten-year review Calvert's Women's Principles.
Navigation
Calvert's site navigation is well designed in a clean, logical and consistent manner. The navigation bar includes four tabs with contextual promotions and a responsive fund search field in the Strategies tab dropdown. The site is now fully responsive on mobile, tablet and desktop browsers. The tablet view allows investors to scroll through large video and images easily with a compact menu in the header, while on mobile devices, a vertical main menu displays organizes compact video and images.
 Strategies Drop Down Menu
Perspectives Drop Down Menu
Homepage
Calvert Investment's public homepage has eye-catching imagery with minimal text, and is a refreshing change from the site's previous text-heavy template. The page is dominated by a large embedded video promoting the firm's sustainable and responsible investment strategy, followed by images promoting recent market commentaries. Lastly, the redesigned homepage has a Fund Finder (a hybrid search bar/dropdown feature) and links for three login sites: institutions, financial advisors and individual investors.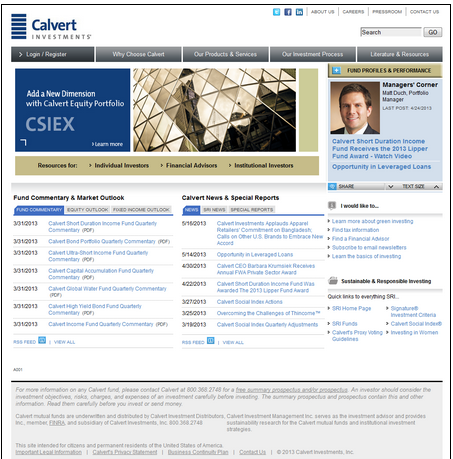 New Homepage   May 2013 Homepage
Fund Profiles
The firm's fund profile pages offer predictive search, interactive charts and colorful graphics to showcase content and feature seven tabs: Summary, Performance, Portfolio, Dividend and Cap Gains, Fund Review and Ready to Invest. Specifically, the Performance tab includes a collection of dynamic charts outlining average annual total returns, annual returns, hypothetical growth and historical pricing over a custom timeframe.
Fund Profile Page (Top Half)  Fund Profile Page (Bottom Half)
Commentary
Calvert's Perspectives tab excels in appearance, functionality and filter capabilities.  The blog-style layout features large images on a continually scrolling page with filters for both Topic and Type. The tab organizes commentaries into six categories: Equity Markets, Fixed Income Markets, Climate and Environment, Social Impact, Governance and Women and Investing.
Calvert Perspectives Page (Truncated)
Closing thoughts
Since 2013, the Calvert Investments site has seen significant improvements, bringing the firm in line with industry standards. The firm has greatly improved the design and functionality features of its public website and now offers investors a very competitive asset management site. Large segments of the industry are also beginning to adopt best practices pioneered by Calvert, as socially responsible investing continues to grow in popularity.
To access the full archive of CI's Around the Industry reviews, click here.