Corporate Insight's Around the Industry blog series reviews public websites and digital resources offered by leading financial services firms that fall outside of our Monitor Services coverage groups. In this installment, we examine Goldman Sachs's Asset Management website for the first time.
Goldman Sachs's Asset Management website has a clean layout and features a simple color scheme. The site follows a recent trend in web design that utilizes flat images and is responsive. The homepage promotes content with a large banner image and highlights recent commentaries with accompanying thumbnail images. The homepage features a large fund finder segmented by asset class, with a predictive search bar. Notably, the bottom of the page includes three tabs that showcase top Morningstar-rated funds and a personalized feature that lists users' recently viewed funds.
Goldman Sachs Asset Management Homepage
Market Insights
The Market Insights tab promotes content in a useful way by aggregating three (Featured Insights, Market Strategy and Asset Class Views) of the four subtabs into one long page. The page uses tile boxes to promote commentaries, market insights and displays charts about smart beta strategies. The page features a fixed anchor menu as a visual reference point. The Goldman Sachs Global Investment Research page includes a collection of videos about topics such as the U.S. economy, emerging markets, global economies and individual country profiles. The addition of small video thumbnails could improve the page's aesthetics and promotion of video content.
Market Insights tab – (L) Market Strategy Page (Truncated) (R) Goldman Sachs Investment Research Page (Truncated)
Products
The firm's fund profile pages are comprehensive, and are similar to traditional product pages we see in our coverage group. Profiles include four tabs: Overview, Performance & Pricing, Holdings & Characteristics as well as Literature and feature an array of tables, charts and graphs to display fund information. The firm does not include fund comparison capabilities – a feature offered by 35% of our coverage group. By adding expandable disclosures, the firm could remove long passages of text and make the page appear less cluttered.
 (L) Fund Profile- GS International Equity Insights Fund (Truncated)
Resources
GSAM's Resources tab features an Investment Ideas page that displays rich images and a promotional video. The firm promotes their suite of ETFs through Goldman Sachs ActiveBeta ETFs – a well-designed page that utilizes a similar long-form layout used in the Market Insights tab. This page is advanced compared to the rest of the firm's fund sections and uses colorful images and cascading style sheets. The page highlights the advantages and potential benefits of investing in these ETFs through images, charts and graphs. The page also boasts discrete rollover icons that expand to display social media sharing icons.
(L) Investment Ideas Page (R) Goldman Sachs Active Beta ETFs Page
Literature
The Literature Center features seven dropdown filters positioned on the left sidebar. All resources include a corresponding image, and some resources display a short synopsis. Locked content is outlined with a padlock icon and in some cases also includes a passage stating the content is restricted for financial professionals. The Literature center allows viewers to customize material between the following three audiences: financial intermediary, general public use and plan sponsor use.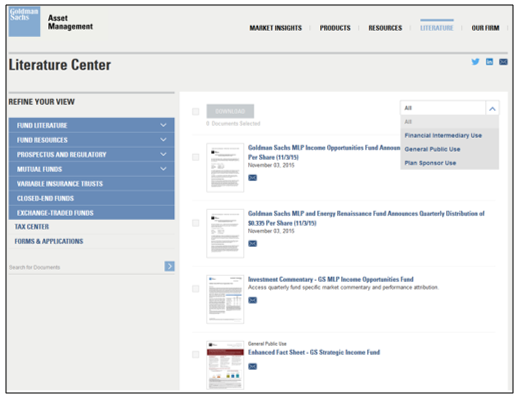 Literature Center (Truncated)
Closing Thoughts
Overall, Goldman Sachs Asset Management offers investors a competitive website with responsive design. The site is engaging to viewers with bold, eye-catching graphics and images, and a clean layout. The firm's fund profile pages include all of the relevant information but they lack some value-added features like compare functionality. The promotional pages for ETFs are noteworthy because they utilize a custom style sheet, make good use of white space and feature straightforward color patterns. The firm features useful fund search filters on the homepage and a useful feature that retains users' recently viewed funds.