TD Ameritrade launched a revamped private website Education Center, adding a host of resources to the reorganized section. Highlights of t
he new Education Center include a points program, virtual badges, a personal progress meter and improved search, filter and navigation features. The firm also added a variety of new educational content across a variety of formats, including videos, online courses, quizzes, live events and articles. TD Ameritrade has stated that it plans to continue to add content to its revamped Education Center over the upcoming months, including up to 200 new videos.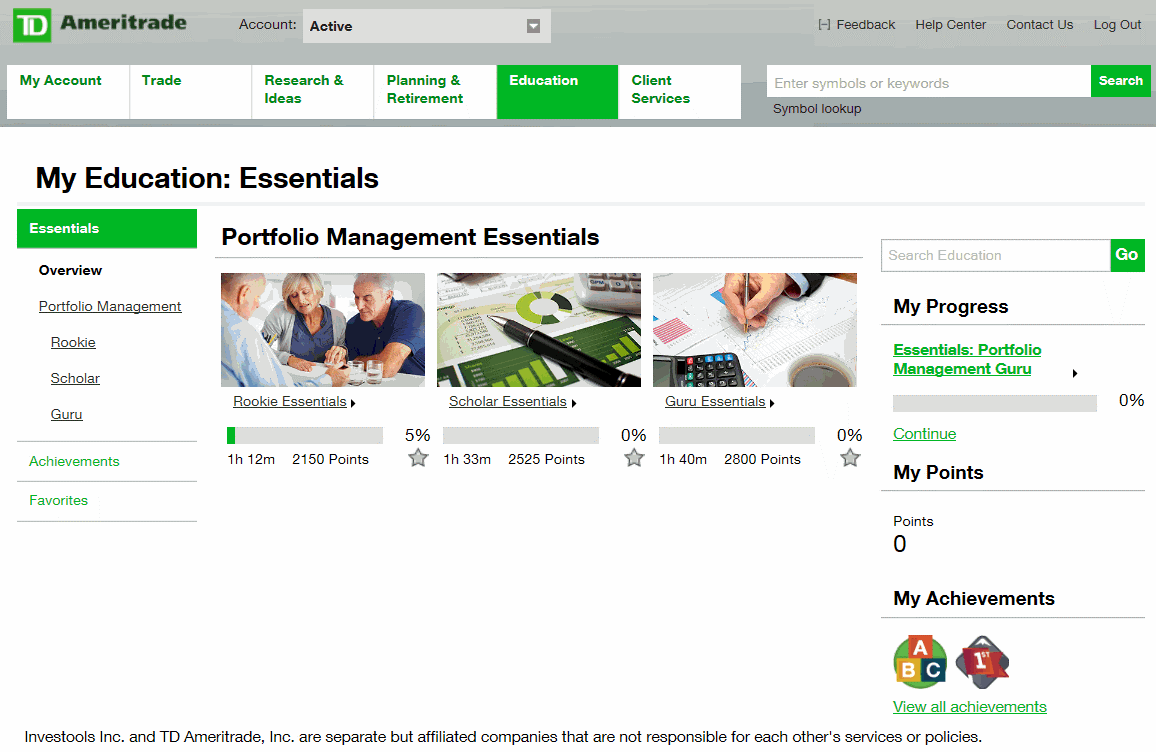 My Education: Essentials Overview Page
Introduction of Gamification
Perhaps the most notable addition to the revamped TD Ameritrade private site Education Center is the introduction of gamification. The most prominent gamification feature is the new points accrual program that rewards clients for viewing or completing educational content. Each individual video, course or quiz displays its points value along with the name, length, progress completed, educational level and summary. A static My Progress section is displayed throughout the Education Center that displays the client's current point total along with their achievements and current progress. Currently, clients are not provided with the ability to redeem points; however, according to the firm, in approximately a month a points redemption center will be launched that will enable clients to redeem points for "TD swag" or a charitable donation to a specified charity organization.
The Education Center also offers virtual achievement badges awarded to clients who complete investing lessons and accomplish certain challenges. Clients can view their achievements within the previously mentioned My Progress section or on the dedicated Achievements page.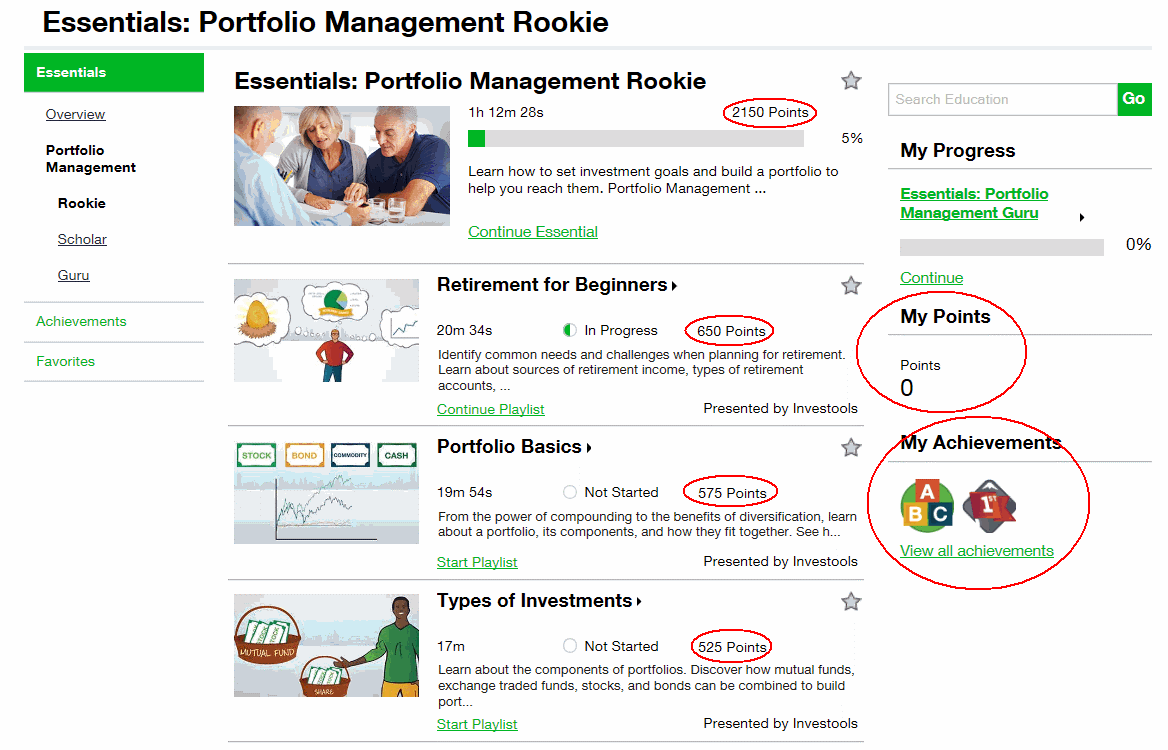 Gamification Feature Callouts
New Search and Filter Capabilities
In addition to the new content and gamification, the revamped TD Ameritrade private site features section-specific search and filtering capabilities. Keyword Search is available throughout the My Education and Topics sections. In addition, the new private site Education Search page includes a search bar at the top of the page. Additionally, multiple Education Center pages feature Filter and Sort By options. The Filter tool is divided into four dropdown menus – Topic, Media Type, Level and Progress – while the Sort By option allows clients to view content by Popularity, Newest and Length.
New Private Site Education Search Page
Conclusion
In addition to TD Ameritrade, a number of brokerage firms have improved their online educational offerings over the course of the last year, including Fidelity, Charles Schwab and E*TRADE Financial. Multiple firms have stated that the end-game with regards to online educational content is to provide not only product and investing education, but also engaging content that gets clients to return to the website over and over again. To that effect, the introduction of gamification elements into the online education centers is a great way to further engage clients, and get them coming back for more by providing rewards incentives.