Coverage tools are a great way to help new clients decide on appropriate insurance levels before a purchase is made. In fact, early results of a recent poll of our P&C panelists indicated that 71% of respondents would be "very likely" to seek out these types of resources, while another 14% would likely use them if they were made visible through online ads or promotions. Unfortunately, only five Property & Casualty Insurance Monitor firms offer coverage tools online. GEICO, The Hartford and Liberty Mutual offer tools that calculate specific coverage amounts, deductibles and add-ons, such as rental coverage. Allstate and Travelers, on the other hand, take a broad approach to the tool, taking a well-rounded client profile to recommend general products.
Liberty Mutual
While coverage tools normally focus on auto coverage, Liberty Mutual is the only firm that also offers separate coverage tools for homeowners and renters. The firm's Homeowners Coverage Calculator suggests liability coverage and deductible amounts, while the Renters Coverage Calculator helps users estimate the value of their possessions, with a corresponding monthly price to insure those belongings.

Liberty Mutual Homeowners Coverage Calculator
Allstate
Allstate is the only firm to offer a coverage tool exclusively for clients. The firm's Good Hands 360 Review, located on the private site behind the login, seeks a well-rounded view of clients' needs and belongings, asking about the user's cars, homes, recreational vehicles and family members. The results page shows clients the products they own through Allstate, through other firms, and identifies any potential shortfalls in coverage. For example, the firm may recommend umbrella or flood insurance depending on how users answered each question.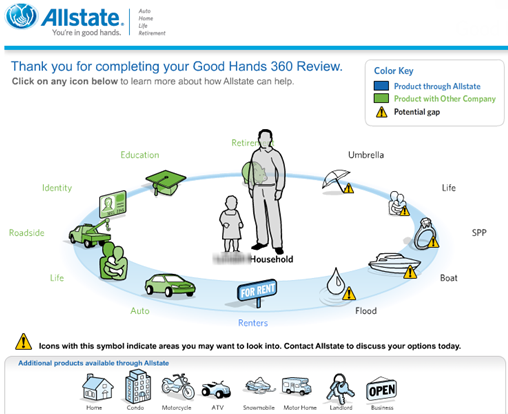 Allstate Good Hands 360 Review
Property & Casualty Monitor clients can click here to access the full report on coverage tools, which provides in-depth analysis of competitor offerings and best practice recommendations for firms interested in implementing or improving their own coverage tools.