Over the past several months, firms throughout the financial services industry have begun to integrate personalization capabilities into their apps to meet mobile users' growing expectation for customized and highly relevant content. Most recently, Fidelity unveiled a redesigned app for iPhone and Android, complete with a first-of-its kind, customizable Feed that delivers news and market information based on what clients own, have on their watch list, have recently researched, or have chosen from a menu of 28 investing topics.
According to the update's press release, the firm developed the feature in response to feedback that indicated users would like to use the app as a platform for discovery in addition to tracking performance and placing trades. The Feed serves as a dedicated news and market information section that provides access to articles and videos that should interest clients, impact their portfolios or identify potential investment opportunities. For example, if clients have Apple in their watch list, the Feed may include related articles that analyze the firm's recent performance and predict its future outlook. Clients can also select topics of interest that they'd like to learn more about. Topics range from top news, to market segments, to the different sectors of the economy and more.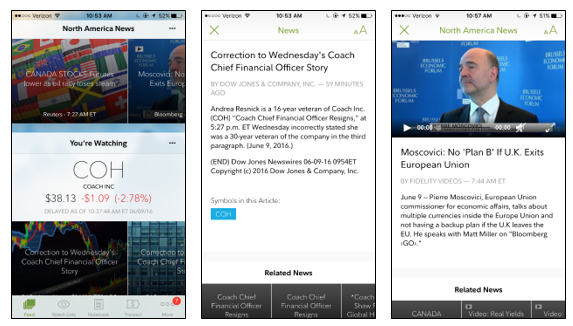 Feed, Article and Video
We examined news innovation in our latest special study, The Innovation Advantage, covering a variety of apps and websites that offer innovative and relevant functionality that financial services firms can apply to their own platforms. Fidelity's new custom Feed measures up to some of what we observed from the best non-financial news-focused apps out there, though there is still some room for improvement. For example, services like Feedly and Flipboard—both reviewed in the study—go a step beyond Fidelity's Feed and allow users to select the specific providers from across the web that they want to view news from. They also promote the sharing of articles between friends and colleagues through multiple channels, including Facebook, Twitter, LinkedIn, Pintrest and email. Another news aggregation service provided by Pocket includes a save-for-later service that gives users the option to read articles at a later time offline.
Though Fidelity's custom Feed is a step in the right direction, the firm might consider adopting some of what non-financial innovators like Feedly and Flipboard provide to create an even more engaging news experience. The same goes for other financial services firms that provide news and market commentary content to consumers or financial advisors. For more information on The Innovation Advantage or to order the full study, please contact Craig Sherter at 646-929-5149 or csherter@corporateinsight.com.