Corporate Insight's monthly Trends & Highlights series analyzes key online releases, updates and themes across the financial services industry over the previous month. For past Trends & Highlights articles, please check the T&H; Archive.
Financial firms shifted their attention to unveiling new websites in March, with five firms implementing significant changes and one more announcing changes to come. Firms also continued the trend of offering on-the-go accessibility by unveiling new mobiles apps and sites. Additionally, firms also continued to release tax-related promotions as Tax Day nears.


New Sites
AXA Equitable launched a redesigned public website. The firm announced the redesign approximately two weeks prior to its unveiling. TIAA-CREF began offering an exclusive preview of its new private site, which clients can choose to use now and provide feedback to the firm, or they can continue to use the old design until the site goes live. Following recent announcements that the firm was redesigning its private site, Charles Schwab implemented a number of overarching changes as well.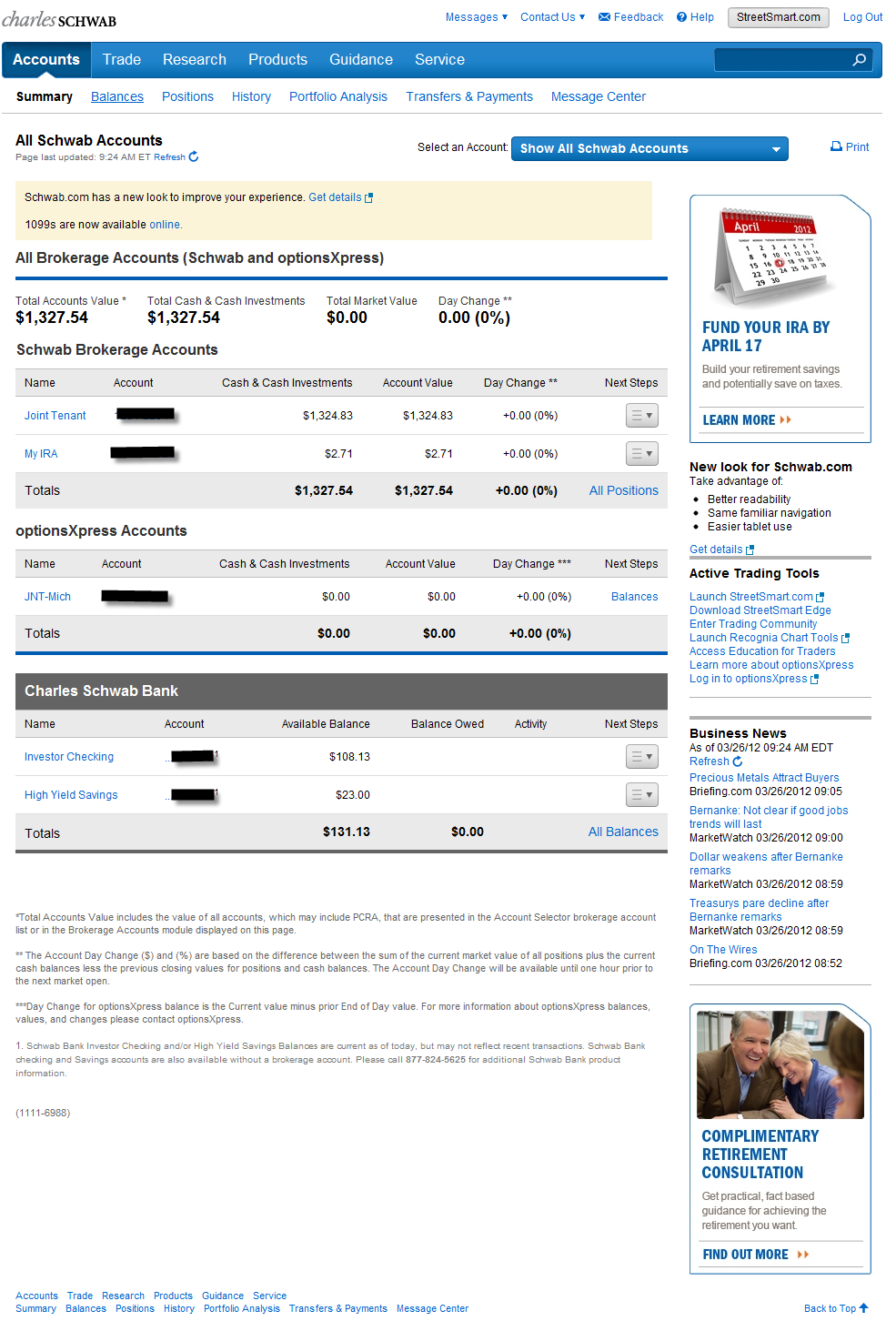 Schwab's Updated Private Site Homepage

U.S.
Bank
updated its public site homepage after announcing it would do so in late December. As announced in late February,
American
Express
made a few changes to its private site, updating the color scheme throughout the site and the layout of the private site homepage. Finally,
Ameriprise
Financial
upgraded its private site at the end of March, now offering account information, trading capabilities and research in a centralized location, along with an updated trade ticket and new online options trading.
Tax Information
Firms continued to add tax-related promotions to their sites in March. MassMutual added a new section to the advisor Annuity Marketing page, Tools for Tax Season. The Hartford unveiled a new image on its public homepage promoting its 2011 Tax Center. Fidelity added a Tax Center promotion to the firm's IRA Overview page. Invesco's private investor site landing page now features a new image promoting a TurboTax discount of 15%. Charles Schwab also added a new TurboTax promotional image to its private site.
More Mobile Apps
Mobile Apps remained a popular topic among financial firms in March. Bank of America launched apps for the Android tablet and Amazon Kindle Fire. Merrill Lynch and Merrill Edge introduced new Android apps. E*TRADE added mutual fund trading to its iPhone and Android apps. Zecco launched Zecco Mobile, an upgraded iPhone app. Additionally, State Farm released the MoveTools application available for the iPad, OppenheimerFunds unveiled the Global Tracker app for the iPad and Android and Fidelity added the Health & Insurance Mobile app, as well as a Mobile Check Deposit feature for its iPad app. U.S. Bank, Franklin Templeton and Discover also launched new iPad apps. Additionally, Merrill Edge began promoting the recently-added remote check deposit capability for the iPhone on its public site and T.D. Ameritrade enhanced its mobile app, which now allows users to scan a barcode and instantly view the stock quote for the company by which it was made. Additionally,Capital One, UBS and HSBC all added optimized mobile sites, while Discover, ING Directing and Edward Jones redesigned their mobile sites.
In Other News…
Firms Add New Tools – Pacific Life added a new Net Unrealized Appreciation vs. IRA Rollover Calculator to the advisor site. Wells Fargo launched a new private site transfer tool. E*TRADE Financial added a Virtual Agent Tool. Bank of America unveiled a new tool that generates card offers. Finally, Northwestern Mutual added a new Permanent Life Insurance "Tutorial" tool.
Sitelets Remain Popular – Bank of America added the Platinum Privileges sitelet. Fifth Third added The Curious Bank sitelet advertising its general services. Fidelity Unveiled the Thinking Big microsite, which provides Fidelity insights on potentially significant emerging global economic trends. BlackRock also unveiled the Investing for the New World microsite. Jackson National unveiled a new product microsite. Mass Mutual also added the new MassMutual Edge sitelet.
Firms Move Forward with Social Media Initiatives – Federated released a new Social Media Center that centralizes its social media operations. American Funds launched a Facebook page. Finally, American Express announced the ability for card members to sync their American Express credit cards with their Twitter account.