Financial firms focused on assisting clients in April, with 7 firms implementing customer service-related features. Firms also continued the trend of releasing new sites, with a number of private site revamps taking place. Similarly, firms chose to revamp product sections and homepages as well. Additionally, firms also continued to unveil and promote their mobile capabilities


Customer Service
Chase released a new "What Can We Do Better?" ad on its private site, which directs users to a new Customer Feedback page. Charles Schwab released a new Client Reviews page. Fidelity unveiled customer ratings and reviews atop a number of public site pages, ranking the usefulness of each page. Liberty Mutual added a private site chat tool. Trade King's live chat tool was updated and is now provided by Live Person; previously, the tool was offered by Parature. Amica added a We're Listening page to its private site that asks clients to provide their opinions about the firm. Finally, Merrill Edge released a new Communication Center, which acts as a native email platform for clients on the private site.
New Sites
Charles Schwab unveiled a more attractive private website featuring an updated color scheme. Ameriprise also revamped its private site, consolidating account information, trading capabilities and research on a single website. In addition, Chase redesigned its public site Checking Account section, improving the way each account is organized, and Invesco updated its homepage design, creating a simplified, more attractive page.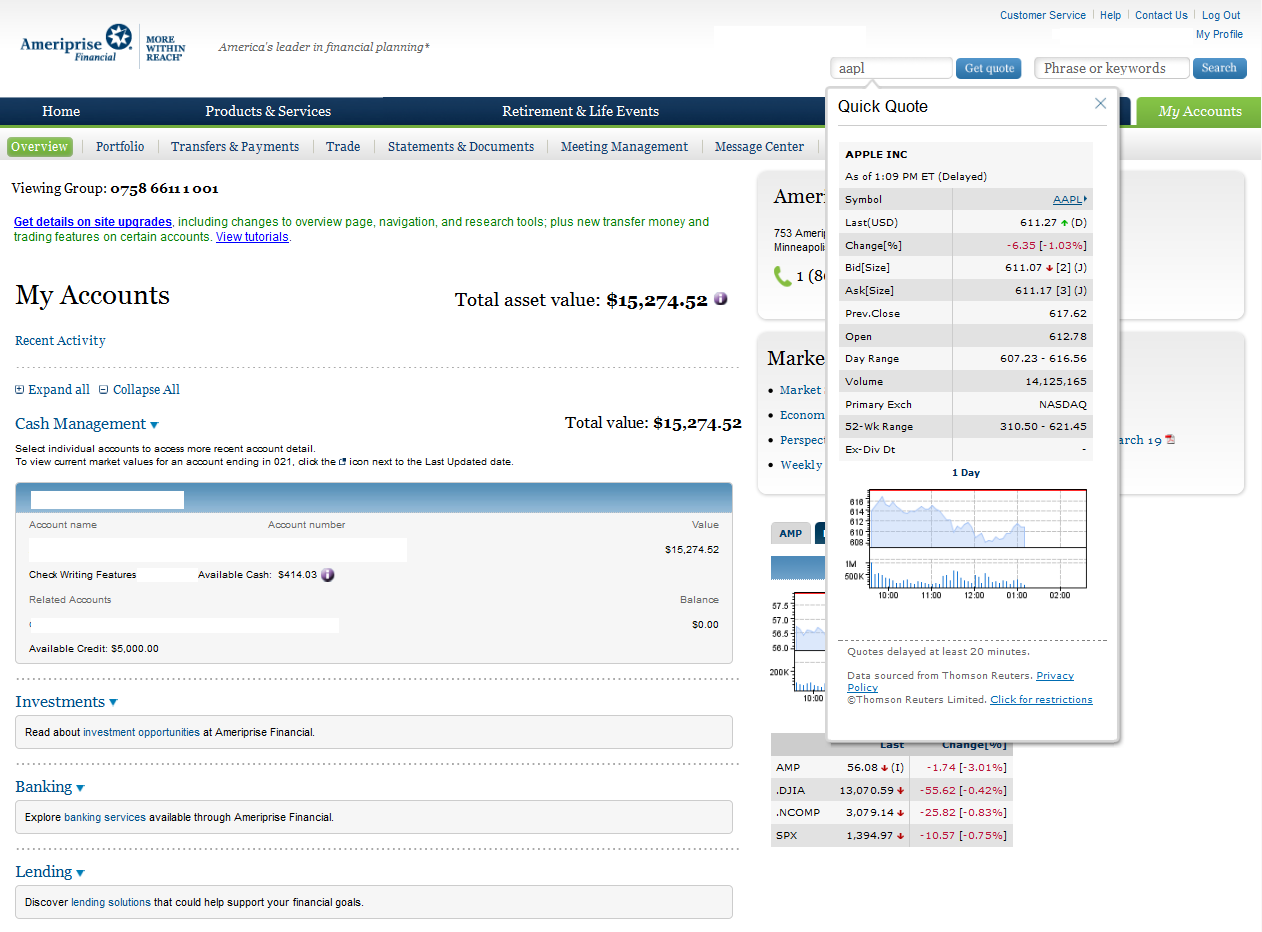 New Ameriprise Overview page with Quick Quote and Account View
More Mobile Access
Again, mobile accessibility remained a popular topic among financial firms. U.S. Bank announced it is testing a new augmented GPS-aided iPhone app for locating branches and ATMs. Discover unveiled an iPad app, as did T. Rowe Price. Allstate launched a Digital Locker app for the iPhone and Android. KeyBank added a new Mobile Apps page to its public site organizing information about its pre-existing apps. Zecco announced that Zecco Mobile is now available for Android devices. Zecco also now enables clients to receive market alerts sent directly to their Android phones. Citibank began promoting its Kingle Fire Edition app on its Mobile Overview page. PNC Bank revamped its Mobile Banking page. Capital One now allows clients to redeem accrued rewards via mobile devices. Wells Fargorecently announced the capability to send and receive money to and from both Wells Fargo and Bank of America customers via email or mobile phone on its private site. Finally, E*TRADE updated its iPhone and Android apps, which now include voice recognition commands and bar code scanning.
In Other News…
Firms Unveil New Tools – American Century released two new tools: the "FIT Tool: Savings Toal Calculator" and the Compound Interest Calculator. Additionally, BlackRock unveiled its New Stretch IRA Illustrator tool for advisors.
Sitelets Still Trendy – T.D. Ameritrade released a sitelet detailing the firm's research. Mass Mutual unveiled two new sitelets: "The Word" sitelet, and an interactive corporate responsibility sitelet.Finally, MetLife released the Promise Whole Life 120 microsite on its advisor site.
Firms Reminds Clients of IRA Deadline – E*TRADE added a public homepage announcement, reminding investors that April 17, 2012 was the last day to contribute to an IRA for 2011. Wells Fargo added a similar announcement.