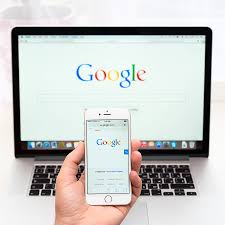 In today's connected world, people are constantly browsing the web on their mobile phones, tablets and desktop computers. In the age of instant gratification, people also expect to find the content they are looking for within seconds. This is critical for businesses to know, understand and adapt to when it comes to online presence. It can be difficult to assess exactly how a website is performing without running sophisticated, expensive programs. Luckily, Google recently introduced a testing tool that is free and simple for anyone to use. Without much technical knowledge, users can determine how their sites are performing in three areas: mobile-friendliness, mobile speed and desktop speed. By entering the URL of any public website, Google gives the entered URL a score in each category between 0 and 100, rating each as "good," "fair" or "poor." The tool then dives deeper into each area and provides information on how to improve scores.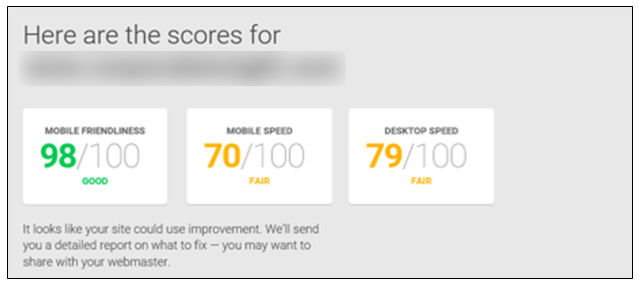 Google's Testing Tool Overview
Mobile Friendliness
According to Google, people are five times more likely to leave a site that is not mobile-friendly. This is especially pressing in 2016, when more Google searches are done on mobile devices than on desktop computers. In addition, with Google's April 2015 algorithm change, mobile-friendly sites are significantly favored in search rankings.
Knowing these facts, it's important to optimize mobile websites, and Google's tool gives a mobile-friendly score along with the criteria used to calculate the website's score. For example, a site will receive a good mobile-friendly score if it uses legible font sizes, avoids plugins and sizes content to viewport. Users can receive a more detailed report and recommendations in all three categories by clicking the "Get My Free Report" button.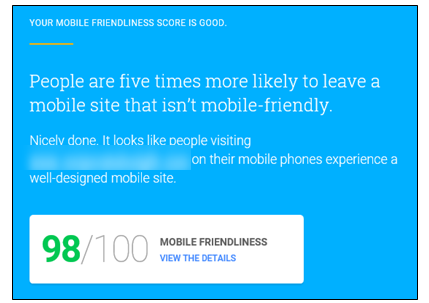 Mobile-Friendly Test Score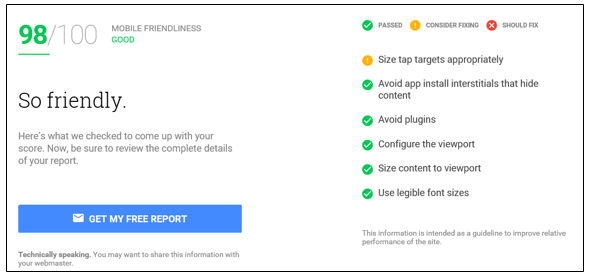 Mobile-Friendly Test Recommendations
Mobile and Desktop Speed
When accessing a website, every second—and millisecond—matters. A recent New York Times article suggests that people visit a website less often if it is slower than a competitor's by just 250 milliseconds. The research proves that businesses cannot afford to have slow mobile or desktop sites without losing potential customers. Google's tool gives scores for mobile and desktop speeds, alongside scoring criteria. The tool explains what you've done well, what you should consider fixing and what you should absolutely fix. For a speedy site, users should optimize images, minify HTML, CSS and JavaScript, prioritize visible content and eliminate render-blocking JavaScript and CSS in above-the-fold content.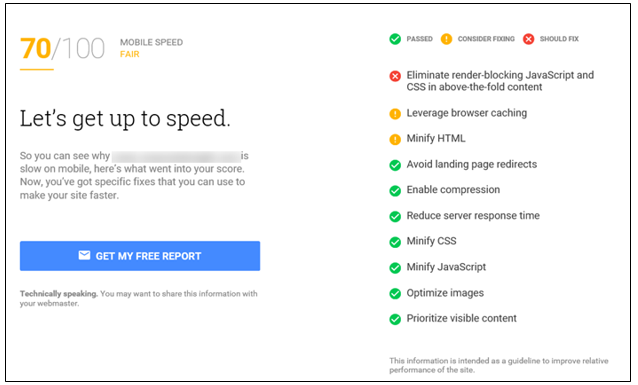 Mobile Speed Test Recommendations
Desktop Speed Test Recommendations
Google's test can be a good starting point for businesses to improve their online customer experiences. By implementing some of the suggested changes, businesses may see an uptick in website traffic, a higher average length of time spent on a website, and ultimately, an increase in sales.