Financial firms unveiled a number of new tools, as well as mobile apps, social media promotions and websites this January. On a smaller scale, firms also announced impending changes and implemented security procedures to login processes.
New Tools
New tools ran rampant this January, with five firms adding tools to their respective public, private and advisor sites in January. The Hartford is among the firms that added new tools, including the new Hartford Income Annuity Quoting Tool, which allows advisors to obtain a customized income annuity quote using current rates.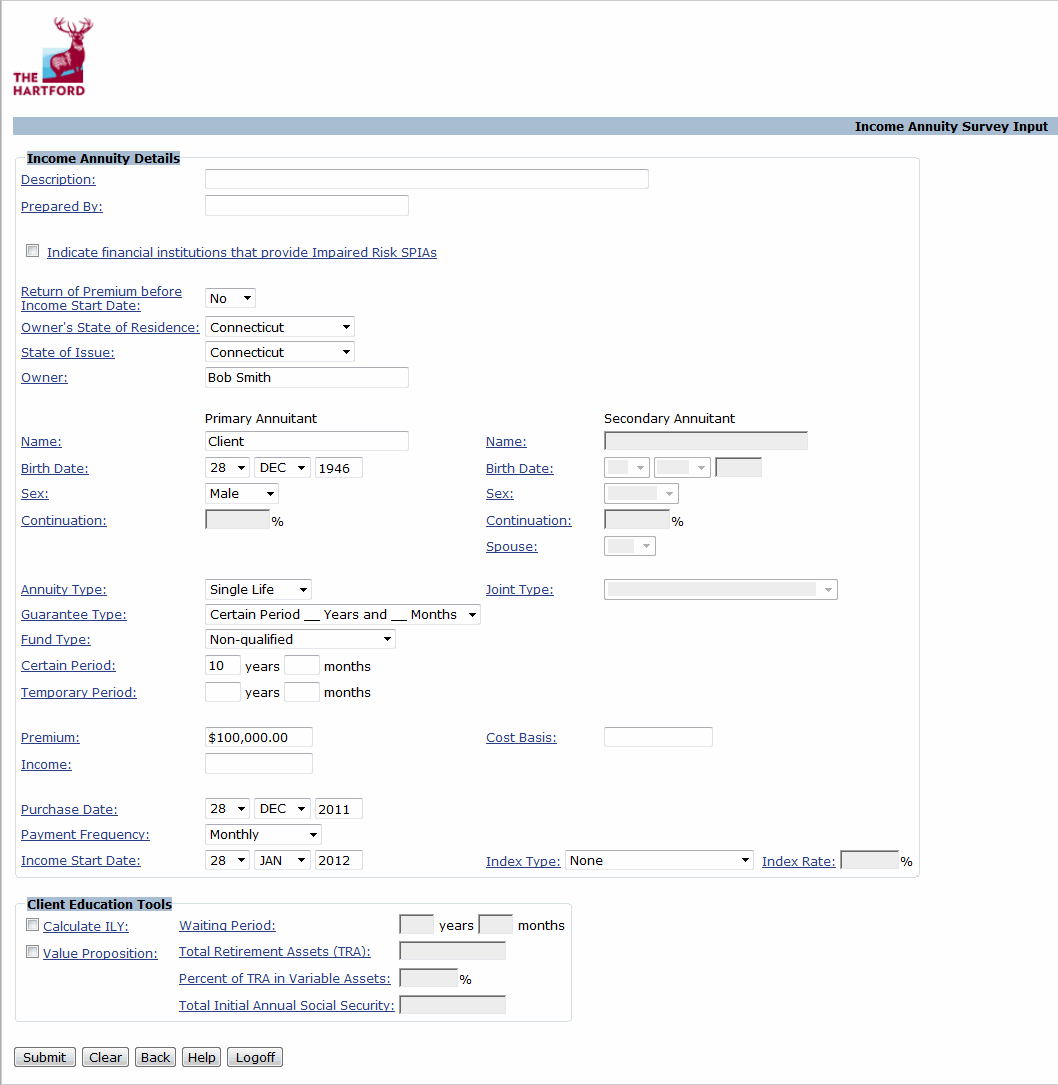 New Hartford Income Annuity Quoting Tool
The Hartford also unveiled the iGO e-App, which enables users to electronically submit Universal and Term Life Insurance applications. Charles Schwab added new chart recognition tools to its private site that include a Strategy Builder, Technical Event Screener and a Technical Event Lookup.
GEICO
recently released its Coverage Coach Tool, an eight-step tool that provides personalized auto insurance coverage recommendations after users input information about their vehicle and driving habits.
Invesco
added a new Hypothetical Calculator tool to its private site that allows investors to view a hypothetical gain/loss estimate for their account. Additionally, Invesco and
Dreyfus
added new private site Cost Basis tools that allow investors to enter either dollar or shares amounts and choose a cost basis method for a hypothetical redemption to view their gain/loss. In addition to the recently released tools,
iShares
incorporated its pre-existing Quick ETF Finder function into the main menu, rendering it far more accessible.
Mobile Apps Remain in Vogue
A number of firms unveiled new mobile apps this January, while other firms released apps optimized for different devices, and others announced promotions that publicize an app. VALIC released its first mobile application, the VALIC Mobile app, which is currently available to iPhone owners and enables clients to view a variety of policy resources on-the-go. E*TRADE clients can now electronically deposit checks to their E*TRADE brokerage or bank accounts thanks to the recently enhanced E*TRADE Mobile Pro mobile banking and investing app. The firm also announced plans to extend the capability to Android smartphones in early 2012. Citibank released the new Citi ThankYou Point Sharing Facebook application that allows ThankYou Rewards members to pool points with Facebook friends in order to redeem a shared goal or reward. In a new press release, Charles Schwab announced a new app optimized for the iPad that allows customers to transfer funds between deposit and brokerage accounts, access financial news, view transaction history and manage trading. Wells Fargo also announced that its pre-existing mobile banking app is now available for Android devices and can be downloaded from the Amazon App Store for Android. And finally, Zecco is currently offering new and existing clients a free Android smartphone to prepare for the launch of its new Android app.
Social Media Promotion
Despite existing for quite some time, financial firms made a major promotional push of social media pages in January 2011. Vanguard added new links to the firm's social media pages to its public homepage. John Hancock added a series of quicklink icons to the center of the public homepage promoting its Facebook and Twitter social media channels, as well as its share capabilities. U.S. Bank added links for its Facebook and Twitter pages to the public site Student Loanspage. Chase added a "Share This" icon to the top right-hand corner of each public site Credit Card informational page generating a pop-up box with links to several major email and social networking services. Zecco updated its public site Explore tab, adding a link to the firm's pre-existing Facebook page and Facebook Social plugin throughout the section. American Century recently added new social media icons to the vast majority of its public site pages, prominently promoting its social media presence.  Icons promoting the capability to share a particular page via Facebook, LinkedIn and Twitter were added next to the firm's pre-existing icons. Allstate unveiled a new Google+ icon to the list of its social media pages on the public site's bottom static menu.

American Century's New Social Media Icons
In Other News…
Firms Make Changes– E*TRADE revamped its public site with a more attractive design and reorganized content. The Hartford also unveiled a new client site that features a new homepage with a term timeline that presents the policy term beginning and end date. Finally, RS Investments released a redesigned homepage that features larger promotional images and reorganizes featured materials into clearly divided columns.
Firms Announce Changes-to-Come – Aviva announced the impending release of a new advisor website. The message includes an overview of the key features of the new site, which will include easier access to the site, simplified navigation, new search technology, new filtering features and a new document upload tool. Chase also announced a major change: The firm stated that it is currently working on completing plans to make Product Summary Guides for each of its deposit accounts in order to make their terms easier for customers to comprehend.
Security Procedures Upgrades – Edward Jones clients who forget their user ID can now retrieve it online by entering their date of birth and Social Security number. Previously, clients were required to call the firm's customer service line. Additionally, Amica strengthened the private site login process by now requiring customers to select a security image and answer security questions.