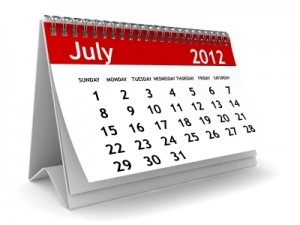 Corporate Insight's Trends & Highlights analyze key online releases, updates and themes across the financial services industry over the past month. For previous Trends & Highlights, please check the T&H Archive.
July Trends & Highlights Summary
Numerous firms unveiled site changes, including Nationwide, which introduced the first step of a three-part revamp.
Firms continue to roll out more mobile apps, with T. Rowe Price releasing its very first one.
Four financial firms unveiled new microsites geared towards promoting firm capabilities.
Redesigns and Revamps
A number of firms retooled their websites to feature new designs and capabilities in July. Nationwide unveiled phase one of a three-part revamp, which includes a redesigned public homepage, improved navigational structure and a partially redesigned public Insurance section. The firm has not yet stated when the next phase will occur. MFS unveiled a redesigned advisor site, as well as a redesigned public site, both of which employ a more attractive homepage and a new logo, as well as a sleeker main menu and improved organization. Additionally, UBS revamped its public site, significantly streamlining and reorganizing content. Fidelity made several changes to its private site last month, adding new chart views to its Portfolio Positions page and redesigning the Overview page and information pages for the Research Annuities section. The new chart views on the Portfolio Positions page allow clients to view the progress of current holdings since the date purchased and since the last close. The Annuities section is more organized now, featuring cleaner layouts similar to recent redesigns that occurred in the Guidance and Retirement section of the site. Vanguard also revamped its private site, which now emphasizes the My Accounts and Buy & Sell tabs and includes both functional and design changes.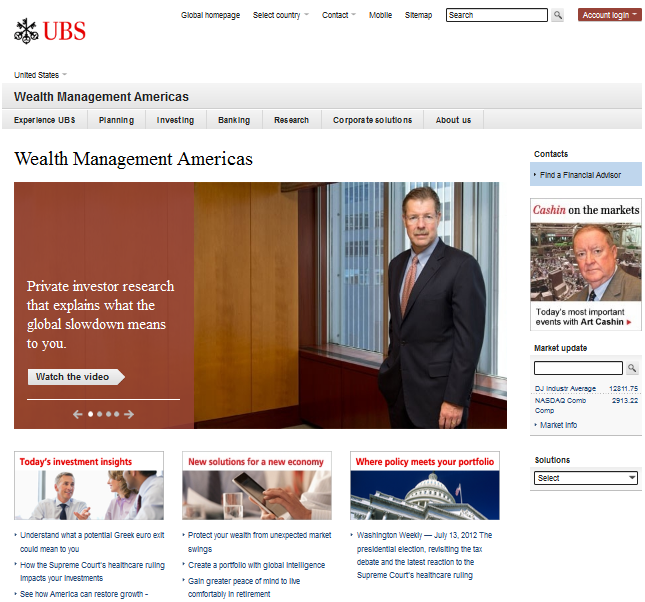 New UBS Public Site Homepage
Mobile
New and improved mobile capabilities remained a popular trend through July. A new Download Your App Here tool was added to the right-hand side of the public site American Express mobile page, which provides access to a comprehensive list of the firm's apps. Additionally, T. Rowe Price released its first mobile app. The new iPhone app significantly expands the firm's mobile presence; previously, the firm only provided a mobile site for iOS and Android devices. A new GEICO iPhone app, GEICO Connect, was released that provides key tools that the firm's general app offers. For example, it allows clients to share insurance ID cards, request roadside assistance and view accident resources. Finally, Bank of America's iPad add was enhanced with mobile deposit capabilities. The app was also equipped with the ability to display deal listings based on purchase history.
Microsites
A number of new microsites were also released in July, promoting firms' products and capabilities. PIMCO unveiled the new Income in the Age of Investment Defense sitelet, which provides commentaries and fund promotions for the firm's income-oriented funds. AllianceBernstein's "Practice Management: The Advisor Institute" microsite contains new streaming videos explaining the benefits of using the firm's pre-existing continuing education program, The Advisor Institute. Additionally, the new Fidelity Millionaire Outlook Microsite provides demographic and outlook information for high net worth individuals, providing a resource for advisors looking to capture this lucrative market segment. Lastly, Lincoln Financial Group introduced a new fixed indexed annuity focused microsite, A Growth and Protection Story, which promotes the purchase of fixed annuities.
In Other News…
Chase Announces the End of Student Loans– As of July 1, 2012, Chase Select Private Student Loans will only be available to current Chase employees and clients.
Capital One Allows Clients to View Product Ratings – Capital One released a Ratings & Reviews section allowing visitors to see comments and ratings made by card members based on three criteria: Online Experience, Customer Service and Card Benefits.
Smith Barney Accounts Make Final Transition – All Remaining Smith Barney accounts transitioned to Morgan Stanley Smith Barney Accounts in mid-July.