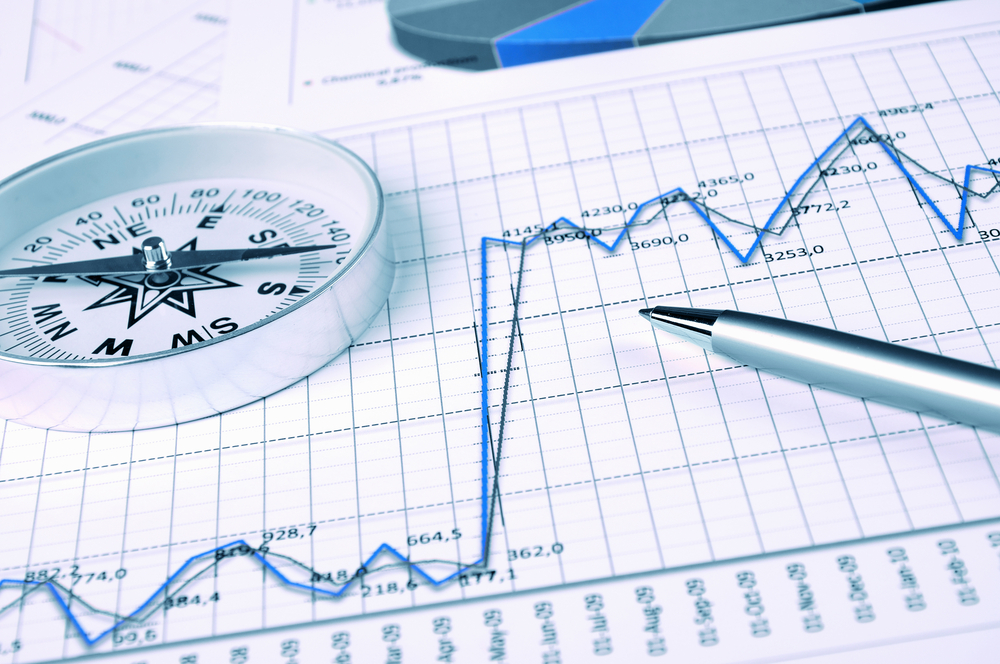 Fund Thought Leadership Insights is a monthly blog series highlighting the best commentaries and expert analysis pieces released by leading asset management firms. For a full archive of past articles,
click here
.

With half of 2014 in the books, asset management thought leaders like to discuss how the economy has fared so far, as well as consider any challenges or impediments to the future financial well-being of corporate America and its residents. This month, we highlight the top five thought leadership pieces that look to the future to help us make better investments in the present: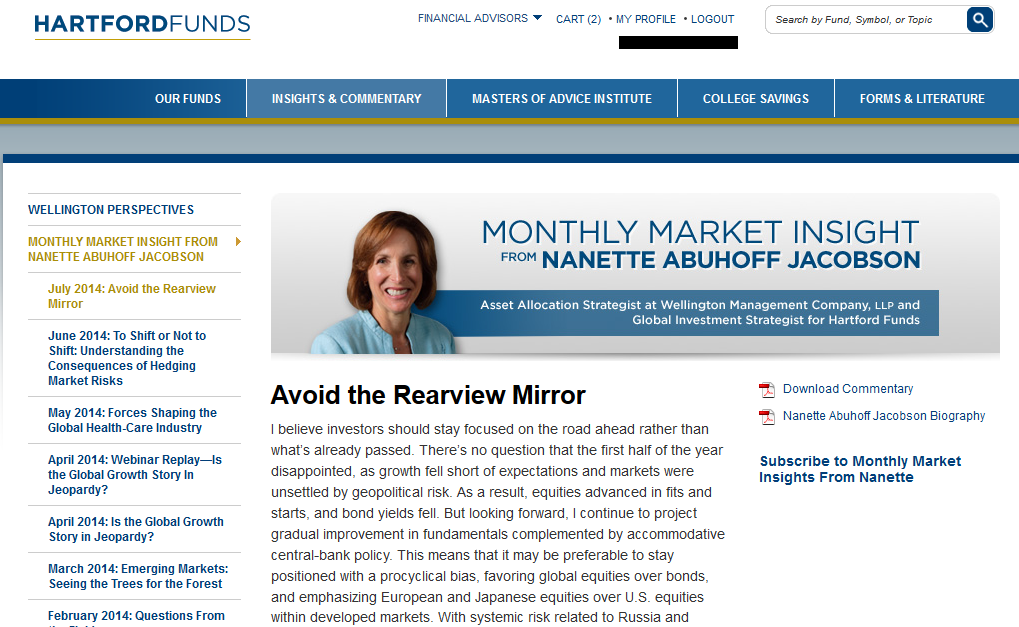 1. Hartford Funds: Avoid the Rearview Mirror – Wellington Management's Nanette Abuhoff Jacobson admits that the first half of 2014 was disappointing for many investors, but also contends that the rest of the year shows promising signs of improvement. She highlights how economic fundamentals are on a positive track in Japan and Europe, as well as in emerging markets, all of which will help equity investors find better returns. Jacobson also warns about the paralyzing effects of past market performance, stating that if investors are too busy focusing on what went wrong earlier this year, they may be blinding themselves to new opportunities in the coming months.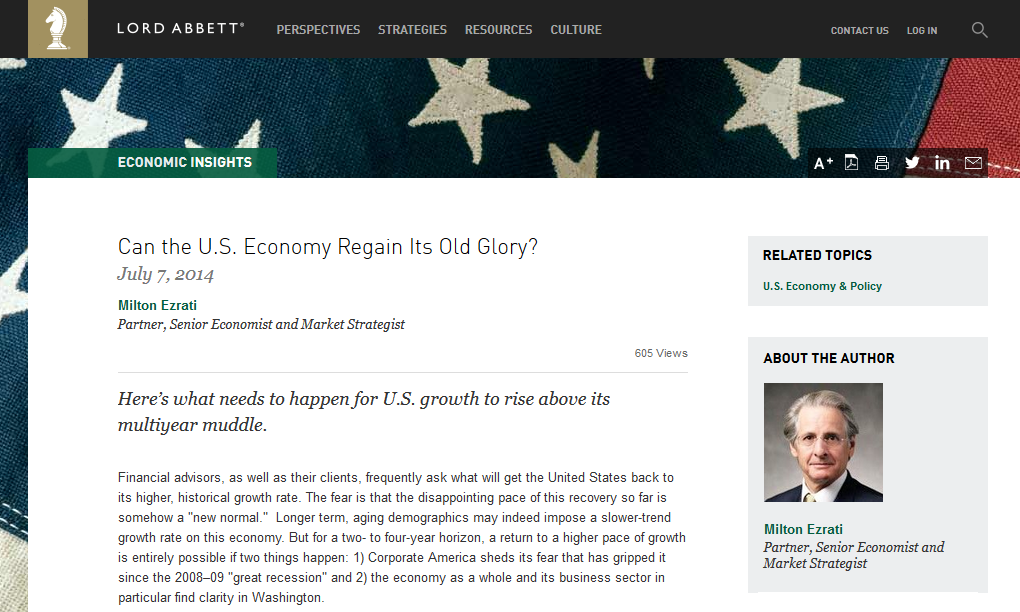 2. Lord Abbett: Can the U.S. Economy Regain Its Old Glory? – Lord Abbett's Milton Ezrati discusses the fear that sluggish growth may now be considered the "new normal" in the United States. He also explains, however, how higher growth can become the norm again within the next four years provided that American employers become more comfortable with investing in new hires, and that Washington delivers clear economic policies. In the latter case, Ezrati clarifies that it is not so much that the Affordable Care Act and Dodd-Frank are necessarily good or bad legislation, but their complexity (and the continuous legislative challenges to their legitimacy) causes business leaders to view them – and the economy's overall health – with uncertainty.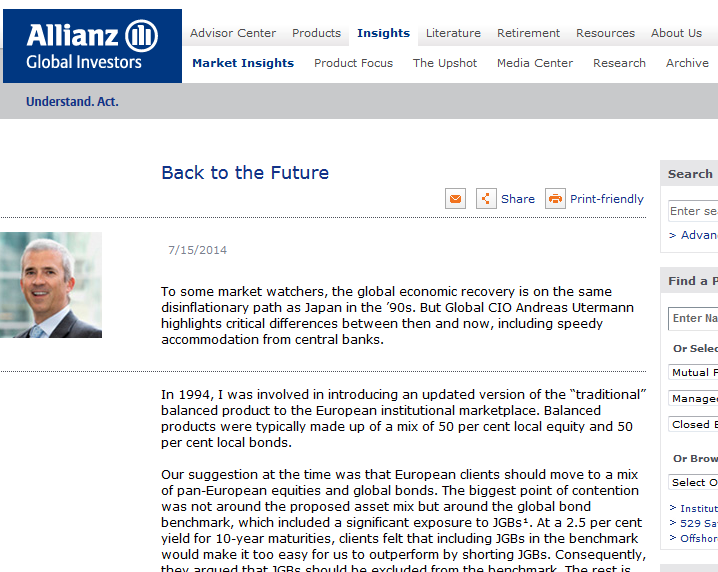 3. Allianz: Back to the Future – CIO Andreas Utermann draws several similarities between today's global economy and Japan's in the 1990s, during which the company's disinflation led to higher unemployment and debt burdens. Utermann also argues that central banks around the world are much more responsive today than they were twenty years ago, which allows governments to craft more flexible policies to avoid those historical problems.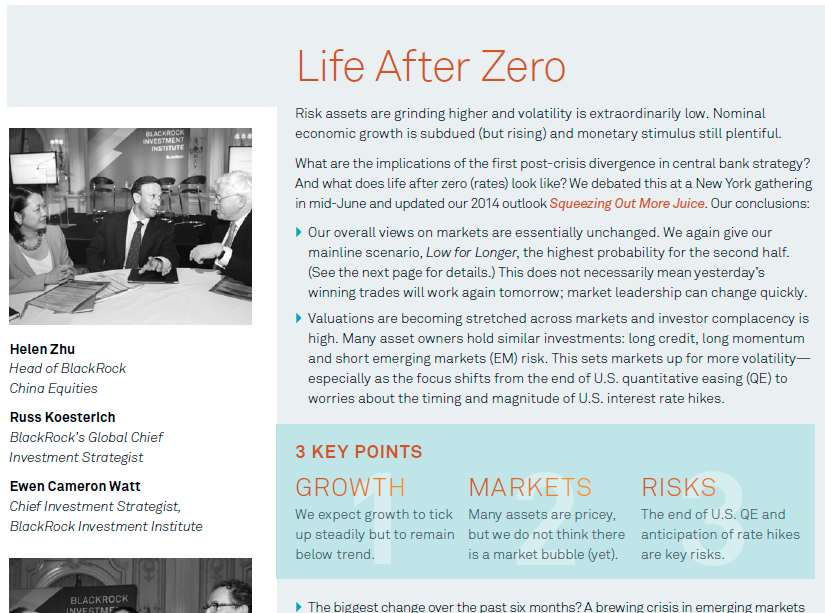 4. BlackRock: Life After Zero – In the firm's mid-year outlook, Helen Zhu, Russ Koesterich and Ewen Cameron Watt recap the major trends of the past six months, including a stabilization in emerging market crises, a continuation of QE tapering and new policies in Europe to prevent disinflation.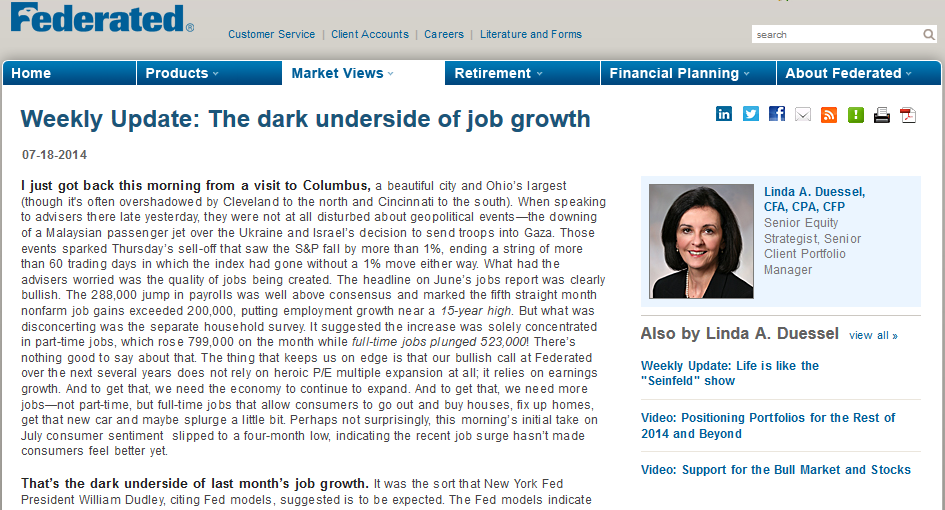 5. Federated Investments: The Dark Underside of Job Growth – Linda Duessel presents a contrarian take on U.S. employment data, especially as it relates to economic growth and Federal Reserve policy. She highlights how the addition of part time jobs to the economy overshadows a decline in full time positions, which are ultimately more important for the country's long-term economic prospects. In addition, she predicts that the real costs of the Affordable Care Act will mount over time to dampen GDP growth by 1.75% every year.