Fund Thought Leadership Insights is a monthly blog series highlighting the best commentaries and expert analysis pieces released by leading asset management firms. For a full archive of past articles, click here. 
Our June 2014 Advisor Monitor report focuses on firms' risk management resources, which feature a diverse array of insights and tools.  This month, we examine five prominent pieces focusing on market risk and its impact on investor and policy attitudes.

#1 Loss Looms Large in Investors' Minds
Firm: Hartford
Despite the fact that the financial crisis and the Great Recession are behind us, a new study from Bankrate.com reveals that almost three quarters of investors are wary of stocks or have no interest in the asset class altogether because they are seen as too risky. This degree of risk aversion presents a difficult situation for these investors, as stocks are proven to deliver higher returns year after year than the more conservative bond holdings that risk-averse investors now prefer. Thus, Hartford contends that risk averse behavior is extremely risky in itself if bond returns cannot keep pace with inflation.
#2 A Crash Course in Helicopter Investing
Firm: Allianz Global Investors | Author: Kristina Hooper
Kristina Hooper profiles the typical "helicopter investor," who is so worried about risky market conditions that they micromanage, scrutinize and overthink their portfolio activity on a day-to-day basis. Because these investors are so afraid that their investments might lose value, they make knee-jerk, reactive decisions with negative long-term consequences that they simply don't consider in the short term. Hooper stresses the importance of advisors talking to their clients about sticking to a defined long-term investment plan, which can be structured to weather the kind of market fluctuation that "helicopter investors" might otherwise find so discomforting.
#3 Opportunity Risk High: Low VIX, Low Rates Scaring Equity Investors Away
Firm: Federated | Author: Michael Dieschbourg
Managing Director Michael Dieschbourg examines the current state of the market's "fear gauge," the CBOE Volatility Index (VIX), which both reflects and influences various investor sentiments. The VIX currently indicates low levels of volatility, but some investors and media outlets take this as a sign of impending collapse because the VIX was also low just before the 2008 crash. The author takes care to note that current market fundamentals are actually stronger than what the VIX or any Treasury yield downturn may indicate. Thus, it is unwise to judge the trajectory of the entire economy based on the VIX alone. Instead, Dieschbourg argues, it is more important to be mindful of the opportunity risk so prevalent in the market today. As he states in the piece, "the opportunity to make money is being undermined by the fear of losing it."
#4 Europe's Fiscal Progress Faces Complacency Risk
Firm: AllianceBernstein | Authors: Dennis Shen & Darren Williams
The firm's European economists analyze the challenging fiscal dilemma amongst Eurozone countries. National governments have made good progress towards their fiscal goals, boosted by an improved budgetary outlook and the prospect of continued economic growth. However, in order to continue reaching their prescribed milestones, European countries may need to enact additional austerity measures that their domestic populations simply cannot tolerate any longer. The political backlash to these economic policies may cause governments to delay or rethink any future plans, which in turn could slow overall growth and cloud the European investment climate.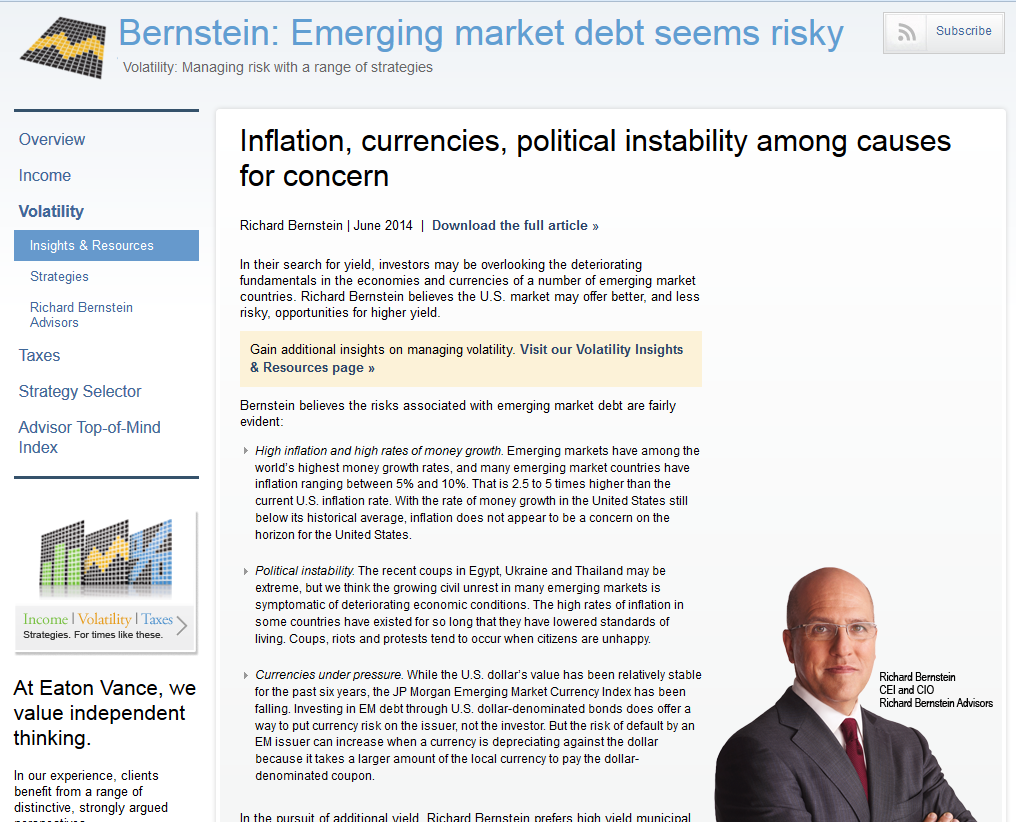 #5 Bernstein: Emerging Market Debt Seems Risky
Firm: Eaton Vance | Author: Richard Bernstein
Thought leader and fund advisor Richard Bernstein believes that many American bond investors are seeking yield in emerging market countries without fully understanding the current risk environment. Bernstein highlights how emerging market nations have significantly higher rates of inflation than the United States and have relatively unstable currencies compared to the U.S. and Europe. In addition, extreme political events such as the recent coups in Ukraine and Thailand are outward expressions of widespread economic deterioration. These author sees these events as a reminder that discord need not escalate to a coup to indicate significant economic unhappiness. Therefore, he advises bond investors to focus on countries with stable, content populations.