Over the course of 2012, ShareBuilder has made some significant upgrades to their public and private websites. Here is a look at the key changes and additions the firm has made to its online presence since the beginning of the year:
January
ShareBuilder adds new IPO Research Center, a feature offered by only three eMonitor firms – E*TRADE, Fidelity and TD Ameritrade.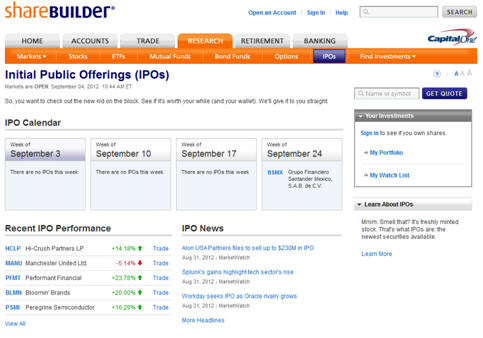 February
Introduced Live Chat to both the public and private sites.
March
Redesigned securities charts and added ability to add markers for events such as dividends, ratings announcements and transactions.
May
Allowed clients to place Trailing Stop orders for the first time.
June
Added a pop-up login box, allowing clients to log in from any page on the public site. Only E*TRADE and TradeKing offer universal login access across the public site.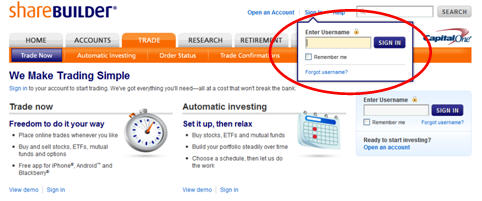 ShareBuilder also added a Bond ETFs & Mutual Funds Research center in June, making them the lone e-Monitor firm with a page dedicated exclusively to bond funds.
July
Redesigned its Stock, ETF, Mutual Fund screeners with filters to the left and a real-time results display to the right. As clients select screener criteria from the menu, results appear immediately.
September
The firm's most recent website upgrade saw them add video news from WSJ Live to the Market Research section. A dedicated video news page was also added. Only Fidelity, Merrill Edge, Merrill Lynch Wealth Management and Zecco offer similar rich media news content.
Closing Thoughts
Over the past eight months, ShareBuilder has worked hard to add to their already top-tier user-friendly online presence (ShareBuilder ranked #1 in Website Design & Usability in CI's most recent Brokerage Website Audit). The firm's revamps have yielded a more intuitive navigation structure and enhanced the overall user experience through the introduction of new online research capabilities and engaging multimedia content. We look forward to seeing what changes ShareBuilder implements going forward.